Season One of #MomBlab Closes It's Doors For Summer
When you see they hung the Gone Fishin' sign on the door, you know you shoulda gone somewhere else. Well I want to tell you before you travel over to our Podcast, that we are on hiatus. (That's fancy for "Gone Fishin'").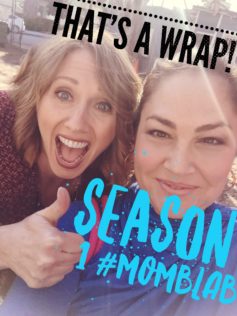 Every good show has to take off Summers, because, well, that's just what you do in Hollywood. Actors & writers go apply for Unemployment. Some folks pick up the slack by teaching Summer courses at colleges or taking freelance production gigs. I'll be doing a whole lot more of my new position as Domestic Goddess /slash/ Semi-retired SAHM /slash/ Renaissance Woman.
I love my darn job.
We have plans this Summer. You've gotten to know us. Laura likes to go outside and play. Kristin likes to stay inside and play. Together we have every family-friendly activity & event, covered.. with a camera or a tent or a sarong or with commentary or with all of those things.. We will have it covered.
The two of us media moms were lucky enough to get the opportunity to mess around with a new medium that is still in BETA testing called Blab.im. With the support of their Blab experts & many talented tech people (including our tech director Laura Stotland) we created #MomBlab – The 1st live streaming show of it's kind. This was an incredibly fun first season with special thanks to our guests (some have podcasts of their own you can hear):
Christine Devine
Allyson Downey
Maria Quiban
Kate Casey
Dr. Alyssa Berlin
Doyin Richards
Michelle Villamaire
Jill Simonian
Jason Anthony Tetro
and all the chatty participants who jumped boldly into the conversation (and on camera!) like Jillian Darlington & Laura Gerson.
During hiatus we'll be planning next season from the comfort of our California beach chairs. We also write a weekly show called Best of LA for Parents which is a fun-sized mini podcast that I like to call a "Funcast". #BestofLA gives SoCal families a hyper current curation of the coolest stuff to do with kids. Laura & I make sure it's under 5 minutes every time & all the links plus special MomAngeles Discounts are on MomAngeles.com This write-up & audio comes out every Monday morning & you can subscribe to the newsletter so that you get it FREE to your in-box.
Catch our friends making entertaining content on air. Keep podcasts alive! And I'll catch somethin for you too. How's a bout a big ol' fish?
XO Kristin