With Mothers Day coming up in a flash, you need a curated cheat-sheet for the best gifts for moms. I'm lucky to have my "Momtourage" here in LA already hunting for the finest shopping ideas to impress any mother. This holiday, don't let it look like you didn't take the time to research, scour, & fight the crowds for the very best. I got my girls on it. Let's the team do all the work, while you just sit back & look like a Rockstar. Which leads me to gift idea #1: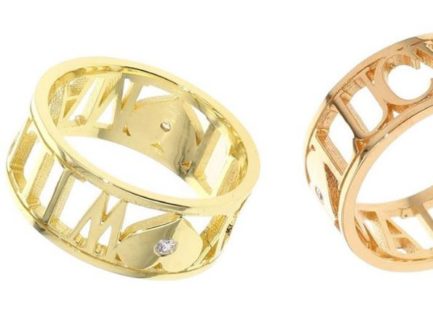 G.ROCK!– I fell in love with this accessories line when I met its founder, Goli, before I saw her pieces. I interviewed this warm beautiful stylish woman about starting her business in her dining room in West LA & it's now sought-after by celebs & fashionados worldwide.
When I saw her designs I understood why.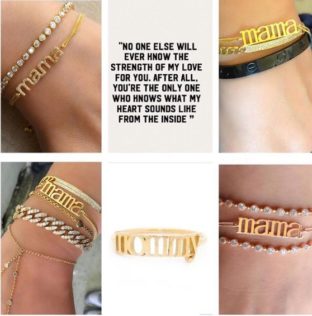 I love a good story behind a successful brand, & I can honestly feel the love in each piece she makes. Handcrafted in Los Angeles, the G.Rock jewelry has meaning & depth that is on-trend & classic at the same time. Mom will love a piece personalized with her child's name or (my favorite) the signature "mama" bracelet (shown above).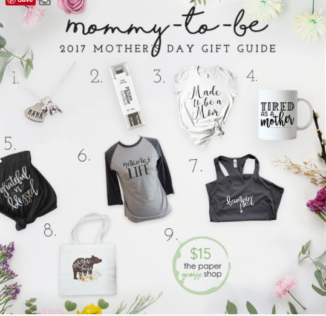 PREGGY MOMS & NEW MOMMIES– I'm obsessed with the Share Your Photos App! It's a "gift" in itself to just tell your mom about! Ask any mother- If there is a way she can get some help staying organized & look like a superstar mom at school, then she'll wants to know about it! As a Room Parent (in 2 classrooms this year!) I really appreciate this app for securely sharing photos of our class when we have parties, special events & field trips. Mom can download it free https://shareyourphotos.com/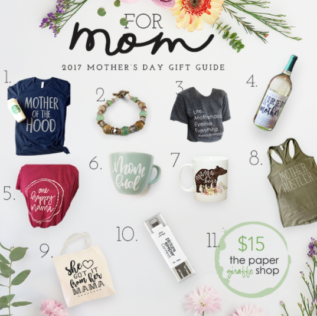 Even better, I was introduced to a bunch of new designers on Etsy that my preggy mom friends will love. The Picture Keeper Gift Guides they sent us were filled with cool ideas for great gifts. Even better, we found out you can WIN a whole 2017 Mothers Day Gift Guide from Picture Keeper by entering their giveaways! How cool is that? Here are the deets*:
Click https://gleam.io/G5AFT/mommytobe-gift-guide-giveaway to enter to win the entire Mom-To-Be Gift Guide.
Click https://gleam.io/vh1tD/for-mom-gift-guide to enter to win the entire Mom Gift Guide. Good luck!!
CELEBRITY TREATMENT– Dina & Janie are two Moms in LA with killer media, marketing & merchandise backgrounds. Their passion for style, cool-hunting, & helping other moms to have more beauty in their lives, is what's behind LOCAL MERCATO. They now organize pop-ups with an eye for the best products offered by the hottest SoCal companies. Since they've appeared in super chic magazines & their events are attracting celeb shoppers, I just had to ask them to curate 3 of their most recommended gifts for Mothers Day 2017: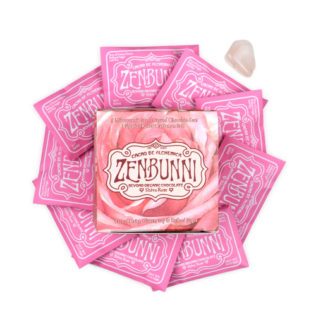 Sincerely custom signature necklace
Zenbunni Chocolate (with bottle of One Hope Wine sparkly champagne)
Donation to favorite charity like: Mattel Children's Hospital UCLA, Milk & Bookies, Girls Inc, Cancer Free Generation.
Charity is a really cool idea that you might not think of for Mothers Day. One of my family's favorite actresses Olivia Sanabia (Just Add Magic) introduced me to Cookies For Kids' Cancer at our LA Baby Show event. Since then I contacted the org. They're making a huge impact. To help, all you need to do is enjoy their scrumptious cookies! That's a sweet way to give back & gift mom with something she'll remember.
SPA TIME- Getting good-for-you skin products is always a solid gift idea. But it's even better when the company comes in super cute packaging, & is run by a mom, & each purchase helps to provide clean water for moms everywhere. Original Good Goods offers Soaps, Moisturizers, Lip Treatment, SPF & Bath Bombs.
All are vegan, olive oil based, & made in the USA. Shopping the cute retail sites that OGG is offered at, is a lot of fun too! Browse OGG products (along with other creative companies that I love) on Fancy & Babycinno. My favorite OGG product is the Lavender Lotion Spray. I keep a mini size in my purse at all times.
MONEY, HONEY – Picture this. It's Mothers Day and your husband hands you a little box. Could it be jewelry? Probably a bottle of perfume. Both sound very nice. As you open it you see that it's neither of those. It's a piece of paper. WORTH A HALF A MILLION DOLLARS!!! And that actually happened to Deborah Bumblis in Ventura County. Could you imagine?! Here's the full story if you want the details. I remember reading about this story & thinking that it was a brilliant idea for the husband who doesn't know what to get his wife. Right? If that's you, then buy a bunch of CA Lottery Tickets, scratchers, all those fun designs, and wrap them up! You never know what Lady Luck might bring your special lady. Plus it's a built-in fun time together.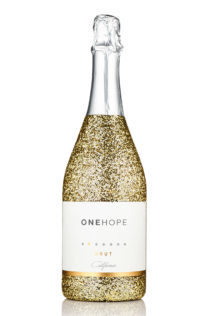 BOOZE & GLITTER – On San Diego TV news I met my friend Monique Soltani, years ago. Since then she's become a wine expert, built an award winning wine website, Hosts the show Wine Oh TV (Comcast (Ch.104/819HD) Wednesdays at 8:30PM), & gave birth to twin girls! She is my ultimate go-to mommyfriend for all things Wine. Last we spoke she was literally flying on a plane & writing tips for this article. Monique doesn't mess around when it comes to Mothers Day. Here is what you need to do, trust me:
"indaba Chenin Blanc 2016, Chenin Blanc is South Africa's most widely planted varietal and the Cape's signature white. This wine is a great value so you could buy her a case and really make Mama's Day. One of the things I love about this wine is if you look at the back label it says indaba is the cornerstone of a philanthropic movement to bring early childhood education to those most in need in the Cape Winelands community. What Mom doesn't love that?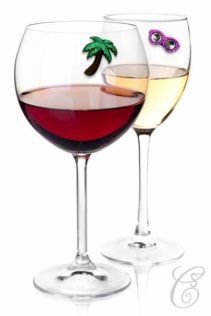 Frank Family Vineyards—Frank Family Vineyards is a leader in the grower-Champagne movement in California, and makes several sparkling wines in the methode Champenoise. The winery just introduced the 2010 Lady Edythe Reserve Brut ($110), named in honor of owner Rich Frank's mother, Edythe. Lady Edythe is made with a blend of Pinot Noir and Chardonnay from the Frank's Lewis Vineyard in Carneros. Perfect for a celebratory toast!"
How to add some personalization to Mom's glass? Monique told me that she's currently obsessed with these wine glass charms and the Swarovski crystals are her faves!
HAPPY MOTHERS DAY! Let me know in the comments below of you've tried any of these gift ideas & how Mom liked them. Even if it's a little shopping you do online & the mom you're shopping for is yourself. You deserve it! Sending big love to all my mamas. Have fun celebrating our awesomeness!
* PictureKeeper Giveaway: No purchase is necessary to enter or to win. This giveaway is only open to U.S. residents 18 years and older. The giveaway will run until 12pm EST on Friday, May 5th. Two winners will be chosen at random. Odds depend on the number of eligible entries received.