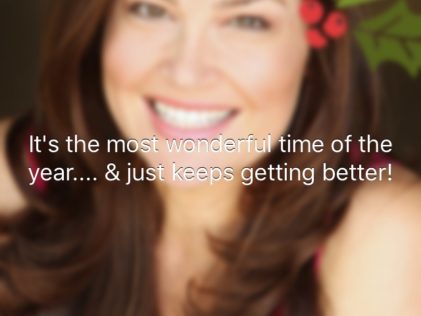 HAPPY CHRISTMAS from me and Magisto! I'm all "talking British" with Izzy today because she's been watching YouTubers from England since she could speak, so we woke up to her saying "HAPPY CHRISTMAS" as they do in the UK. She's so funny.
Here's the final product from our family spending a full 24 hours of Holiday Joy together, while occasionally recording and snapping pics. (Having Fireman Matt home for the whole day was the best gift of all!)
You know I love new tech trends and I really use my iPhone for everything. I'm currently obsessed with an app called Magisto. It was super easy, fun, and fast to make this video. They really made it for me. And they'll make them for you too. And it's FREE!
Magisto helped me make a movie about our family "24 Hours of Christmas" and for that I am so grateful. Watch it here! We are also thankful to a few other great companies we love. Check it all out and see us celebrate Christmas in true California Cruz Family fashion. From making +Foodstirs cookies for Santa.. Eating our traditional #IN-N-OUT Burgers California #ChristmasDinner.. To the big morning with gifts from +Marshalls +Chromebook +Vat19 #notacatcat Thank you Magisto for the ✨ magic to help capture our memories so beautifully!
HAPPY CHRISTMAS from our family – Fireman Matt, Kristin Cruz, Epic Izzy, Cruzer, Papi – to yours XO!