Reese Witherspoon is a mom. Nicole Kidman is a mom. I'm a mom. And that's all we needed to bond. On Wednesday at a secret screening-room in West Hollywood, we gathered together to talk about a new movement to create complex roles for women, that grown-up female viewers will want to watch. Fulfilling for both the women working in media & also the women consuming it. What a concept right? And they pulled it off in a BIG way.
BIG LITTLE LIES
Digital influencers and Hollywood creatives sat in a small theatre together & empowered each other to keep focussed on making quality entertainment "For Women, By Women". Little Big Lies is an example of the great things we can accomplish if we don't give up & believe in each other. That's the power of women working together- In Reese's words.
On a mission to create compelling female-centric programming, Reese Witherspoon's production shingle HELLO SUNSHINE came upon a book they believed had something special that should be shared on screen. The writer, Liane Moriarty, is an Australian author. Reese's partner Bruna Papandrea is Australian, and hopped on the phone with Nicole Kidman, who was in Australia at the time. Next thing they knew Nicole was having coffee with Liane. Just 18 months later, we were about to watch the first 2 episodes of HBO's limited series Big Little Lies.
Reese Witherspoon & Nicole Kidman
These two moms are so poised, approachable, and driven. I've personally been inspired by Reese for quite some time. I'm excited that there is this dedicated group of moms in Hollywood that are going to change things, make things that matter, and affect this industry for the better.. for generations to come. I'm proud to be a part of this group.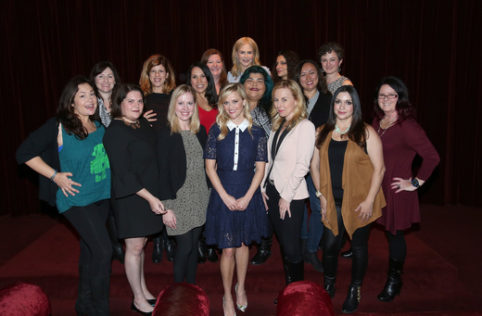 I also have to let you know that I happily put my feet up and dove into the first 2 episodes of this series, which (2 glasses of wine later) has become my new "me time" addiction.
February 19th HBO Releases All 7 Episodes of Big Little Lies
Nicole will encourage you to watch all 7 in a row because it's meant to be consumed that way- Like a movie. It's beautifully shot. It looks like a film made for the big screen. The performances are obviously stunning, with an Oscar winning cast. Plus fresh talent that you'll recognize from some of your other favorite shows. I was riveted watching Laura Dern, Shailene Woodley, Zoe Isabella Kravitz & the sweet Kathryn Newton who I love following on Instagram.
Hello Sunshine
It was a raining in LA on Wednesday. That usually means nobody goes anywhere & flat-hair prevails. But the moms came out in full-force & supported, chatted, shared stories, & promised to keep on moving forward to make important programming for women. For Moms.
I'll be blogging for our community on MomsInMedia.com about the latest insider scoop from Reese Witherspoon's production company & the new deal she just did to expand her company into a major Digital Content Creator. It's such exciting stuff. And I love that Moms are proudly at the forefront!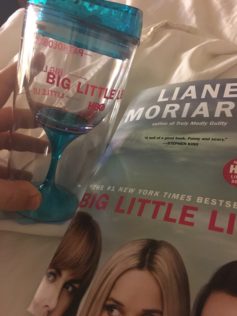 For the juicy details, watch on Feb 19th. It's like nothing I'd ever seen before. It's relatable real-life situations
mixed with total fantasy-life at the same time. Real family problems, mixed emotions, marriage secrets, & even a …. murder. Stephen King himself called the book "scary". Big Little Lies is so much fun to watch- I really hope you check it out & share this post with your Mommy-friends. Like Reese said, the way to show you want Hollywood to make more programming like this is to watch it. Watch & show them this is what we want to see more of.
Let me know if you've read these books below in the comments. Are you a fan already? And Please tell me how you liked the HBO show next week. We're all in this together & it's making things so much better in this town because of it.
Thank you to Reese, Nicole, Hello Sunshine, HBO & Liane Moriarty​ for getting together & believing in us Moms & making great entertainment for us to watch. Cheers to you ladies!