The Boss Baby movie was so funny but also made so much sense to me as a mom of 2 kids! It was like Dreamworks & Fox were speaking directly to moms everywhere.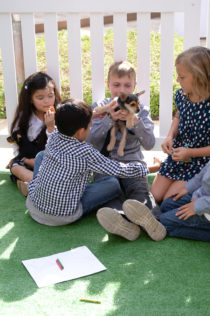 I saw a screening on the Dreamworks Animation lot in Burbank. It was a VIP event complete with a lively red carpet, tuxedo Boss Baby shirts & sweet treats for all the kids, a Puppy Petting area thanks to VanderPump Pets, & an animation class from the actual artists of The Boss Baby movie. The event, & the film, did not disappoint!
If you are like me, you LOVE Alec Baldwin's acting. I also LOVE "kids movies" that parents can enjoy too. I had very high expectations going into this movie. That's risky because you don't want to be let down. The Boss Baby trailers looked SO GOOD, & all the kids at Izzy's school wanted to see it. It rocked! I spent the whole film laughing & nodding my head. I could toootally relate! (I didn't take a nap in the dark theatre in the middle of the day either. All tired moms know that a movie has to be REALLY good for that to happen!). My 5 yo was glued to the screen & was totally entertained. My 2nd grader walked out of the theatre recounting all her favorite parts & already asking me if we can see it again. She's also told all her friends at school, & worn her tuxedo shirt, & is now officially their go-to film critic.
If you are a movie buff like me, then I have to also just throw in that it's Hans Zimmer & Steve Mazzaro music, plus the voices of Steve Buscemi, Jimmy Kimmel, Lisa Kudrow & Tobey Maguire. How can you go wrong? Even if you're a tired mommy that has to close her eyes for a few minutes, even what you're hearing will be enjoyable just by sound alone 😉 #MomBoss #makeithappen #BossBabyMovie #thumbsup
Follow all of our family adventures on my Instagram page & through my live tweets on Twitter! My blog "After The Show" loves to hear your thoughts. Please reach out to me below in the comments & tell me if you are looking forward to seeing this animated film too. Finding good family entertainment is a priority for me, so I welcome any of your recommendations too. Thanks for spending some time here!